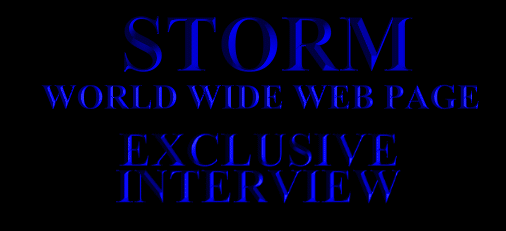 This is an exclusive interview via E-Mail with Ron Wikso of the Storm by Scott Sullivan of the Storm World Wide Web Page.
Q. What do you think of the Storm WWW Page.
A. It was great to hear that someone has taken the time and energy to put up a website for The Storm. The graphics are cool and it has a very professional look to it. With help from the Storm website, we hope to be able to reach out to some more people that maybe wondered where we went or perhaps never heard of us and like our kind of music. Every little bit helps and we believe that the current musical climate may be changing and will be, hopefully, a bit more open to some more positive, melodic type music like ours.
Q. When did you join the Storm?
A. Well, just to clear up the perception of how much (or how little) a part of the band I am, I replaced Steve Smith as a full band member in 1992 and I have done every show that the band has ever done, in addition to recording the second album "Eye of The Storm" and co-writing 2 of the songs on it. (Note: The 2 songs he co-wrote are "Waiting For The World To Change", and "Soul Of A Man".)
Q. What was the Storm's first live performance?
A. The first show the band ever played was at the Shoemaker Center in Cincinnatti opening for Bryan Adams on his "Waking Up The World Tour".
Q. What do you think of replacing Steve Smith?
A. Steve is a friend of mine and, given his amazing drumming ability, I was flattered to have been asked to replace him. It's always a bit daunting to have to take over a job from someone who is so revered by other drummers (I had to do the same thing with David Lee Roth when I took over for Gregg Bissonette) but, you just have to get on with it and have confidence in yourself that what you bring to the band will be just as valuable in it's own way.
Q. What other bands have you played in?
A. Most prominently, as far as touring goes, I have played with David Lee Roth and Cher in addition to my current association with Foreigner. There are lot's of others so, check out my biography on my "Storm Members Page"!
Q. What's it like working with singers like Kevin Chalfant, Lou Gramm and Gregg Rolie?
A. I can attest to the fact that they are all fantastic and each brings their own unique elements to their vocals. When I got in Foreigner, Lou even commented to me, when he'd heard The Storm's debut album, about how good Kevin was. Gregg Rolie has been responsible for some of the most "classic" vocal performances on record with both Santana and Journey. And, of course, Lou is legendary. They are all great in their own way.
Q. What are your future plans with Foreigner?
A. We will possibly tour Europe over the summer. We have recorded a bunch of demos and the writing process is continuing with the plan being to record a new album some time this year.
Q. Since you are so involved with Foreigner, what is your current status with the Storm?
A. Since The Storm has been inactive for awhile, I have had to find other musical outlets to be involved with. The first one I did when The Storm started to become inactive was the David Lee Roth band. Now, I play with Foreigner and I am grateful to have the relationship that I do with them because it enables me to continue doing what I love to do and to make money doing it!! However, as far as my status with The Storm, it is now, and has always remained a priority of mine. In fact, I probably talk more with Scott Boorey (our manager) and Gregg Rolie than any of the other guys in the band about what's going on and what our plans are because I am so interested and dedicated to it. I put a lot of hard work into The Storm and would, for obvious reasons, like to see something good come of it.
Q. What are your future plans for the Storm?
A. The "Eye of The Storm" has just been released on Avex Trax/Bareknuckle (EMI) Records in Japan. The album features different art work, band photos and credit/liner notes than the European release. We will also be seeking to put out the record in North America at some point but, I don't have any other information about that as of yet. Obviously, if we can make a little noise with this record we would love to go out and tour but, we can only do that if it makes sense. Right now, we'll just have to wait and see.
Q. Is there a new album in the works and, if so, have you started working on any new songs?
A. We have talked about doing another record and, at some point, we will but, the first priority has to be getting the band re-established with some strong sales in the markets we are in with the current album. So far we have done very well in that area but we need to do more. As far as song ideas for the next album, we all have some ideas individually that we work on on our own. When it comes time to do the next album, it will just be a matter of sifting through them and re-working them for the band.
Thanks Ron for taking the time for this interview, we look forward to more great music from you in the furure. Scott Sullivan of the Storm WWW Page.

CLICK HERE TO GO TO THE STORM WWW PAGE