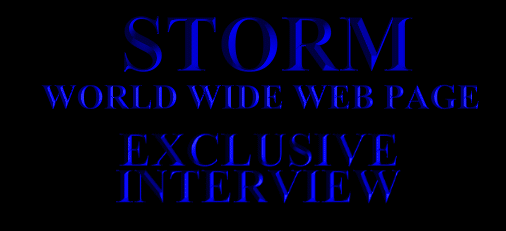 This is Part 2 of an exclusive interview via E-Mail with Ron Wikso of the Storm by Scott Sullivan of the Storm World Wide Web Page.
Q. Fans have E-Mailed the Storm WWW Page with overwhelming positive response to the "Eye Of The Storm" album. They basically want to know if there are any plans yet for a tour and/or any news about an American CD release for "Eye Of The Storm"?
A. While we would all love to be able to do a tour in support of the album, the economics of doing one at this time just don't make sense. Having said that, there is a possibility of us doing a short one in Japan (possibly in the fall) but that is still being researched. As far as the US is concerned, we have to have the record out, and it has to be doing well, particularly at radio, for it to make sense to do a tour here. At the moment, we are trying to sort out our options regarding a US release. We need a label that believes in the record and in this kind of music and who also has some strong distribution channels and some ability to promote it. We'll just have to wait and see what transpires but, believe me, we are just as anxious to get it out as many people are to buy it!
Q. What projects are you working on now?
A. Right now, there is not an awful lot going on but, I may be doing some tracks for a Dave Meniketti (Y & T) solo album and I have done a couple of things recently in Nashville. My agenda got kind of messed up when Lou Gramm was taken ill and all of our plans with Foreigner were put on hold. We had to cancel the Japanese tour that we were going to do in April and we've had to cancel our plans for the summer as well. We are currently in a sort of holding pattern until Lou is back to full strength and we can get back to work.
Q. What did you think of Gregg Rolie's "Abraxas Pool" project?
A. I think it's a great record. Gregg is a very good friend of mine and I am a fan of much of his work.
Q. What type of drum equipment did you use on "Eye Of The Storm"?
A. I used Sonor Hi Lite Exclusive Drums, Zildjian Cymbals, Rimshot Drumsticks and Remo Drumheads.
Q. What new bands of the last few years have you liked?
A. I quite like The Wallflowers (I played in a band awhile ago with their guitar player--Michael Ward). I also like Gin Blossoms, Blues Traveler, Sheryl Crow, Shawn Colvin, Bonnie Raitt (even though she's not exactly new) and several others. I can't even think of all of the names right at the moment!!
Q. What are your favorite tracks on the "Eye Of The Storm" album?
A. "Don't Give Up", "Waiting For The World To Change", "To Have And To Hold", "Livin' It Up", "Give Me Tonight", "Soul Of A Man" and "Long Time Coming"....not necessarily in that order.
Q. Which Storm songs were the best (or most fun) to play live?
A. I would have to say "In The Raw", "I Want You Back", "I've Got A Lot To Learn About Love" and "You're Gonna Miss Me". At least that's what's popping in to my mind right now! It's been quite awhile since we've played live and we never played any of the new songs (from "Eye Of The Storm") live so, I can't even include any of those. The other songs that were a lot of fun to play (that were not songs by The Storm) were "Black Magic Woman/Gypsy Queen" (which Gregg sung in Santana), "Just The Same Way", "Feelin' That Way" and "Anytime" (which both Gregg and Ross did with Journey).
Q. The album "Eye Of The Storm" has a very positive message (example: The song "Don't Give Up"). Have there been times you felt like giving up music and, if so, what has gotten you through the those times?
A. There are always times like that. The music business is a very difficult one to be involved with and it's easy to become disillusioned with it when things aren't going how you might like them to be going. It's hard to say what gets you through but, one of the things is that, usually, after things are kind of slow, there comes a time when things pick back up and you get busy again or you get a break (or breaks) that rekindles your spirit. Oftentimes there are positive comments or thoughts etc. that you get from friends, family and fans that keep you plugging along as well. The other thing to remember is that, at least at the moment, I'm not really all that qualified to do anything else so, I don't have much choice!!!
Q. You have done a lot of tours with bands (David Lee Roth, The Storm, Foreigner) that you have a great amount of songs you have to learn by other drummers. How do you go about it? Do you try to do the song exactly the same way or do you try to bring something new to the song?
A. The only thing that I can ever do with anyone that I play with, is play the way that I play. In learning songs that another drummer has recorded, I have to figure out what I think is most important about the way that he played it and incorporate that to the best of my ability. But, no matter what I do, it will never be exactly the way another drummer did it. Usually, I will pick out signature grooves or fills that would be missed if they weren't played and, after that I just try and do what I would do naturally within the confines of the song that I am playing.
Q. In the future, of all the projects you have done, which ones would you like to be remembered for?
A. That's difficult to say because there are probably projects that I haven't done yet that I will really enjoy and think are worthy of being remembered. But, if I have to choose from the ones that I have done so far, I would have to say The Storm and Foreigner are the 2 main ones.
Q. Your Japan tour with Foreigner was cancelled do to Lou Gramm's illness. How is Lou doing and is there a mailing address or P.O. Box fans can send get well wishes?
A. I haven't talked to Lou in a couple of weeks but, from what I understand, he is progressing nicely and should be back to full capacity in the not too distant future. Any get well wishes can be sent to:
Lou Gramm
c/o Hard To Handle Management
1133 Broadway
Suite 1301
New York, NY 10010
Q. Last but not least, how are the other Storm members doing?
A. Everybody is fine as far as I know!!!
Thanks again Ron for always finding the time for interviews, we look forward to more great music from you in the furure. Scott Sullivan of the Storm WWW Page.

CLICK HERE TO GO TO THE STORM WWW PAGE