Jim Welch was Journey's art director for eight years and was responsible for all of their album packaging and merchandising from 1977 until 1984.
The Journey World Wide Web Page has an Exclusive Interview
with
JIM WELCH



BAD ENGLISH/THE BABYS
SANTANA
FRUMIOUS BANDERSNATCH
VITAL INFORMATION
HARDLINE
HEAR 'N AID
SHAW BLADES
HSAS - HAGAR, SCHON, AARONSON, SHRIEVE
MR. BIG
ABRAXAS POOL
Journey Tribute Bands
LINE OF FIRE
CAPTURED
INFINITY
SEPARATE WAYS
ESCAPE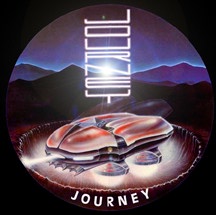 CLICK HERE FOR JOURNEY DISCOGRAPHY
"JOURNEY FRIENDS"
Music artists that have worked with Journey members in the past!
STEVE PERRY
STEVE SMITH
TOMMY "MUGS" CAIN
GREGG ROLIE
ANSLEY DUNBAR
KENNY LOGGINS
JAN HAMMER
JIMMY BARNES
SAMMY HAGAR
RANDY GOODRUM
MICHAEL SHRIEVE
KEVIN CHALFANT
RON WIKSO
MICHAEL BOLTON
CARLOS SANTANA
HERBIE HERBERT
JOSH RAMOS


CLICK HERE TO LOG ON
It's a chat room designed to allow fans of Journey and the Storm to meet and get to know each other. This application does require Java support, such as Netscape Navigator, Internet Explorer or Hot Java. You can also join the chat using any IRC client to connect to irc.webmaster.com, and join the jrnystorm channel.
The best source for music of AOR bands.


CLICK HERE TO GO TO AOR HEAVEN

CLICK HERE FOR LEGENDS CONCERT POSTERS

CLICK HERE FOR THE JOURNEY WWW PAGE
Scott Sullivan and Ken Jones
E-Mail comments to:
jrny@hotmail.com