JOURNEY NET NEWS
Note: The following posts do not necessarily reflect the views of Ken Jones and/or Scott Sullivan and are to be considered the opinion of the source provided.
This is a statement by Kevin Chalfant from Andrew J McNeice of the AOR & Hard Rock Hot Spot website regarding the Storm. "I want to let you know that The Storm and I are alive and well. We are enjoying a new found success in the US. Our "Eye of the Storm" CD is gaining popularity as an underground item. We have been added into radio play lists from coast to coast. As of last week, Miramar Records reported our first single "To Have and To Hold" to be at #28 on the AC Adult Contemporary Chart. Radio stations have been dropping me e-mail and Gregg Rolie has been doing alot of interviews as well. We are fortunate enough to have loyal fans world wide. Our fans have been a great part of our desire to keep moving forward. We forsee a new CD on the horizon. Gregg and I have recently spoken of completing a new CD. Josh Ramos Storm guitarist is currently touring with the original singing members of "Menudo" on their world wide tour. Ron Wikso replacement drummer for Steve Smith is now touring with Richie Sambora. Gregg has moved to Southern California and is writing. I am working on a second solo CD and producing artists for my indie label Clique Records. My new and improved website Clique Records will be finished in early July. We will be hosting many new things for viewers and listeners there. Live chats, video, streaming audio, sounding boards and more. On a sad note, I will miss Ross Valory in the Storm line up, but we will survive. We wish Ross and Journey continued success. Who knows, maybe we will even do some shows together in the future. Send my best wishes to all of your viewers and readers. God bless, Kevin Chalfant. c/o A. McNeice

AOR & Hard Rock Hot Spot has an interview with Neal Schon. c/o A. McNeice

The following information regarding Journey is provided by Andrew J McNeice of AOR & Hard Rock Hot Spot. Journey have settled on using ex-Tall Stories vocalist Steve Augeri for the next leg of their career. But the band have also taken one further step, ex-Bad English drummer Deen Castronovo is to replace Steve Smith. Jonathan Cain and Neal Schon have both been working on new material, and the world will see a new Journey record, to be followed by a full US summer tour. c/o A. McNeice

The following information regarding Journey is provided by Steven Lake and Scott Reynolds. At a drum clinic in Salt Lake City, Steve Smith was asked if Journey would tour. His response was yes, this summer, but with out himself and Steve Perry, that the band is currently auditioning new lead singers. c/o S. Lake/S. Reynolds

The following information regarding Steve Perry is provided by Lora Beard, from Fan Asylum who spoke to Steve on the phone and he asked that she posts the following message on the internet. Thank you for your concerns. I realize that a lack of answers can truly create a mountain of speculation. Hopefully, soon, there will be some clarification. Best to you and yours, Steve Perry. c/o L. Beard

Columbia Records has released Journey Greatest Hits Live CD. The CD is made up of live materials from the 1982-1983 shows. c/o J. Mahyat

Jonathan Cain's CD, For A Lifetime has been released by Higher Octave Music It consists of romantic wedding type songs with an instrumental version of Open Arms. c/o S. Lake

The Storm (with Ross Valory & Gregg Rolie) has released "Eye of The Storm" throughout North America! The label is Miramar/BMG. There is also the possibility of a tour in support of the album, if album sales and airplay are strong. c/o R. Wikso/K. Chalfant

The following information regarding Journey was in a New York Post article, Sunday, January 4th, 1998. Liner Notes would like to forewarn Journey fans that it maybe awhile before makeup dates are announced for the bands post-poned "Trial by Fire" tour. Whispers out of the Bay Area suggest that lead singer Steve Perry called off the dates due to arthritis. The rest of the group's members have embraced a show-must-go-on spirit, beseeching Perry that he could scale down his theatrics, but the singer his having none of it. According to my sources, the remaining Journey-men may seek out a replacement for touring purposes. c/o New York Post

Kevin Chalfant signed the Journey WWW Page Guestbook and said the following about current rumors regarding Journey: Lots of email pouring in from around the world, wondering if I am joining Journey. I would like to use your site to tell fans thank you for all of their support. Nothing has been addressed personally to me by the band. We have had conversations forever about the possiblilities, but no resolution as of yet. Thanks again for all of your support for this Illinois boy still rocking along. c/o K. Chalfant

Par Winberg has an interview with Kevin Chalfant. c/o P. Winberg

AOR & Hard Rock Hot Spot has an interview with Jonathan Cain. c/o A. McNeice

Official comments from Journey's Manager Irving Azoff via Andrew McNeice of the AOR & Hard Rock Hot Spot (with additional information provided by Steven Lake) as posted on MTV On-line. Hip News From Journey, Journey manager Irving Azoff told Australian journalist Andrew McNeice that Perry's hip is not healing with therapy and that he will have to have an operation before he can tour. And with Perry unable to tour to support a CD release, the band is also not recording. McNeice's well-documented quest for Journey news was a story in itself, but his efforts were finally rewarded last week when he connected with Azoff who told him Perry was "on medical leave" from Journey and that contrary to rumors, the band has not broken up. (Azoff added that Perry has also not "found God"). He is, however, working under the name Steve Perry, not Journey. He's been in the studio with David Foster and will be on the soundtrack for the animated probable blockbuster, "The Quest for Camelot," due out in May of 1998 and has voices by Pierce Brosnan, Cary Elwes, Eric Idle, Gary Oldman, and Jane Seymour. As for the rest of the band, Neal Schon has just recorded a blues project with his new band "Piranha Blues" which includes Journey bandmate Ross Valory (bass) as well as Prairie Prince (drums), and Richard Martin Ross (vocal) with some assistance from another Journey alumni, Jonathan Cain. Schon and Cain have recently released instrumental 'new age' records. Valory has also been playing sessions in Europe while Steve Smith has been doing drum festivals in Europe and Japan. c/o I. Azoff/A. McNeice/S. Lake/MTV News Gallery

Neal Schon will play on the Guitar Zeus II project for Carmine Appice. The song is called, "Out of Mind". The album was released in Japan October 14th. The CDs (I & II) will be released in the US by the end of this year! Neal played on the first project as well. For more detail information regarding "Guitar Zeus", CLICK HERE c/o C. Appice

The Internet site ZDNET has a recent article in the Daily Double Scoop section of Neal Schon about his upcoming blues CD and his upcoming official web site http://www.nealschon.com. c/o N. Hamajima

Gregg Rolie and the origanal members of Santana (includes Michael Shrieve & Carlos Santana) were inducted in the "ROCK AND ROLL HALL OF FAME". The ceremony was held on January 12th, 1998 and aired on VH-1 January 19th, 1998. c/o M. Shrieve/VH1

The Storm WWW Page has Part 2 of an EXCLUSIVE INTERVIEW with Kevin Chalfant. c/o K. Chalfant/Clique Records

Scott Warden at Rock Village reported the following news about Journey: What is up with Journey? It was about a year ago that the band put out its first album in a decade and then... no tour, no nothing. Rumor has it Steve Perry injured his hip on a hiking trip during a two-week break following the completion of Trial by Fire. Another rumor says Journey had planned to tour this fall, but because of Perry's lengthy recuperation, the band decided to put out another album before hitting the road. The only thing that isn't a rumor is the fact that Journey's Jonathan Cain and Neal Schon have both released solo instrumental albums this year. While Cain's Body Language is rather dreamy with exotic rhythms, Schon's double-disc, Electric World, is a blend of blues and world music. No word on whether the two will tour together, but if they did, at least Journey fans could see two members on the same stage. c/o S. Warden/Rock Village

The Storm WWW Page has Part 2 of an EXCLUSIVE INTERVIEW with Gregg Rolie. c/o G. Rolie/Miramar Productions

Neal Schon's Interactive CD-ROM will be released early next year by Optek Music System, Inc. (SmartLIGHT guitar). It is still in the pre-planing stage. You will be able to see his technique & play guitar with him. c/o N. Hamajima

Neal Schon co-wrote 2 songs for Paul Rodgers' new double album, called, "NOW & LIVE". The album is now available in the USA (also in Japan & Europe). The 2 songs are "Saving Grace" & "Ride My Love". Neal didn't play the songs on the album. One album is a live blues, the other a studio rock album. c/o S. Sullivan/N. Hamajima

Neal Schon's "Electric World" double CD solo album on the label Higher Octave debuted at #9 on the New Age charts. It is in the August 2nd, 1997 issue of Billboard Magazine. It features 21 songs on two albums. c/o N. Hamajima

The following as reported by 94.5 KFOX, Classic Rock radio station in San Francisco: Even though Journey didn't tour to support last years reunion album, "Trial By Fire," the group may start work on another album this fall. Guitarist Neal Schon says it's possible the band may tour after the album is finished. Meanwhile, he has released a solo instrumental jazz album, "Electric World,". Keyboardist Jonathan Cain recently released a "sort of 70's English Blues thing" called "Body Language" and is at work on another album called "Songs in the Key of Heart" which will consist of music he's written for various events such as friends weddings. c/o E. Taylor/KFOX

Gregg Rolie has released his third solo album titled "Rough Tracks". It contains a new version of the Storm's "Still Loving You". Guests appearing on the album are, Tim Pierce, Bob Marlette, Josh Ramos, Sheryl Crow and Kevin Chalfant. Also, Gregg Rolie's "Gringo" from 1987 is out on CD. Both albums are on the Munich based Point label in Germany. Check out the web site AOR HEAVEN for more information. Gregg Rolie's first album "Gregg Rolie" from 1985 release has been canceled until further notice. They also have the Storm's first album, but in limited supply. c/o G. Siegl/S. Lupro

Jonathan Cain's new album for Higher Octave is titled "Body Language" and is available now. You can order it from CDNow. It was recorded from October 1996 to January 1997. It features the song "I'll Always Remember" co-written with Steve Perry. Steve Smith also plays drums on 5 songs. Billboard Magazine's May 31, 1997 issue on page 86, contains a review of Jonathan Cain's new single from his solo album. Here's the article: "Cain takes a breather from the arena rock sound of Journey to indulge in his love of contemporary jazz. Although some may scoff at his bid for 'serious' attention, this twinkling title track from his new solo album is quite impressive. Behind his technical prowess is a surprising splash of soul which serves the mild funk flavor of this instrumental extremely well. Listen without prejudice." c/o J. Fischer/L. Beard/S. Lake/K. Barcelo

The Storm WWW Page has Part 2 of an EXCLUSIVE INTERVIEW with Ron Wikso. c/o R. Wikso

The following article was featured under the daily news update section regarding Journey, as reported by Billboard Online on June 18, 1997: The 80s were a decade that started as the era of the supergroup. Styx, REO Speedwagon, and Journey were among the big arena rock bands. These groups sent singles into the top 10 routinely. Suddenly, by the late 80s, the supergroups were gone. Journey's disappearance was unique. The band simply vanished following their successful Raised On Radio tour, which took them to dozens of cities from late 1986 through February of 1987. The band released a greatest hits compilation in 1988, but there was no news to substantiate rumours of a split. Suddenly, ten years later, the band re-emerged with a new collection of 14 songs for a 1996 release, Trial By Fire. The album debuted at number 3 on the Billboard album chart. Things looked good for Journey fans. A new album, a promised tour and a bright future for one of the 80s most successful groups. The euphoria didn't last long, however. Music industry insiders began to surface with reports of fighting and strong disagreements within the band. Following that, a report surfaced that lead vocalist Steve Perry had injured his hip while rock climbing in Hawaii. Other than several brief mentions of the injury during radio interviews, no official press releases substantiated the injury. Then, just as it was ten years ago, the band slipped into silence. While rumours of another breakup have surfaced, the band's label and management have declined any comment, other than to say that the band is currently not working together. History repeats. Once again Journey fans are left to wonder what happened. Like 1987, they are left without any news. The label's press releases have not confirmed nor denied the possibility that Journey is once again defunct. The press release indicating that they are not working together has led the band's hardcore faithful to believe that it's merely a postponement to later activity, and led the skeptical fans to believe that it is admitting that the band again has agreed to go their separate ways. In either case, it appears as though lead vocalist Steve Perry has entered Third Encore Studios to record the follow up to his 1994 solo release For The Love Of Strange Medicine, an album that spawned a pair of adult contemporary hits but never reached the level of success of his first solo release or any of the Perry era Journey albums. c/o Billboard Online

This is a message posted on America Online from Ross Valory. Confirmed by Lora Beard (Journey Force/SPIN) via Steven Lake. "Neither the CD nor any further singles will be promoted by Sony until Perrys' health improves and the band is on track for a tour. Unfortunately, there's no sense in further promotion without a booked tour to coordinate with. Steve's condition will improve and the band will tour, I'm convinced! As to when, I have no way of telling. Let's keep up the good vibes and ENDURE TILL THE TOUR!" Love and Appreciation to All, Ross Valory. c/o AOL/L. Beard/S. Lake

Rock Village has an interview with Abraxas Pool's Gregg Rolie and Michael Shrieve. You can listen to excerpts of the interview. c/o Rock Village

The Storm WWW Page has an EXCLUSIVE INTERVIEW with Kevin Chalfant. c/o K. Chalfant

"Eye of The Storm" has been released on Avex Trax/Bareknuckle (EMI) Records in Japan. The album features some different liner notes, band credits, new photos of the band and a new cover (see the Storm WWW Page). CLICK HERE for new band photo. Also, due to strong demand, initial orders for the record have been increased. (Thanks to Naohiro Oyabu for album photos). c/o R. Wikso

The Storm WWW Page has an EXCLUSIVE INTERVIEW with Gregg Rolie and Michael Shrieve of Abraxas Pool. c/o Miramar Productions

In the issue of Billboard magazine dated May 17th, 1997, Journey's "When You Love A Woman" is on the list of the "Adult Contemporary Singles & Tracks" that the song has gone platinum (1 million copies sold). c/o Billboard/J. Mahyat/J. Fischer

Neal Schon is recording with Raul "DJ EFX" Recinos and "Big ED" Moore, who make up the San Francisco production duo E-Team. Neal Schon says, "I'm going to give those kids on Ecstasy some wailing guitar to groove to..." For more information read the article in The San Francisco Sunday Examminer & Chronicle from April 6, 1997. c/o N. Hamajima

Steve Perry has posted a voice message on the "Journey Sony Web Page". Here is what he had to say: "Well hello everybody, this is Steve Perry and I've come on the site to possibly dispel some rumors. If you see things posted there, more than likely they're rumors. And I'll be from time to time coming on the site here giving you information as to what's going on. So thanks alot, thanks for being the faithful ones, and we'll be talking soon, bye." c/o Sony

The Storm WWW Page has an EXCLUSIVE INTERVIEW with Ron Wikso. c/o R. Wikso

Neal Schon and Jonathan Cain will be working on a motion picture soundtrack. There is no name for the movie at this time. c/o B. Hunter

Steve Smith is the cover story in the April 1997 issue of Modern Drummer. CLICK HERE to see the online interview. c/o Modern Drummer

David Perris, Webmaster of the Sony Journey site, has posted the following message in regards to a Steve Perry imposter posting on the Sony board: "Hi... David Peris here. I just got off the phone with Steve Perry, and he sends his regards to all of you, and is thrilled with the support you have been showing here. He would also like you to know that he has not been posting on the message boards, but will be soon putting up audio updates here directly. You have been patient long enough. Here we go." c/o Sony

This is an update on Steve Perry's condition as reported by Kurt Torster of SFK (Striktly For Konissuers): Anyone holding their breath for that long-awaited Journey reunion tour better hold it some more: According to Neal Schon, Steve Perry is still recovering from hip surgery, and is currently on crutches, so it's gonna be fall at the earliest. c/o SFK

The ABRAXAS POOL album with Gregg Rolie, Neal Schon, Michael Shrieve, Michael Carrabello, Jose Chepito and Alphonso Johnson has been released. On March 18 the members of Abraxas Pool had a record release party at a club in San Francisco. You can read an article about the band at the San Francisco Chronicle web site. CLICK HERE to see the album's cover. c/o N. Hamajima

News of the Journey Tour as reported by Billboard: Journey, who has scored a major hit with its first album in 10 years, 'Trial By Fire,' will not be touring this summer behind the platinum project. According to sources, lead singer Steve Perry, who hurt his hip on vacation quite some time ago, is not up to touring. Perry's "medical options are being researched," says a source. c/o Billboard

Jonathan Cain won for Outstanding Keyboardist at the Bay Area Music Awards, better known as the BAMMIES on the 15th of March. c/o M. Sorrentino

Kenny Loggins has released an album called "Yesterday, Today, Tomorrow: The Greatest Hits" and includes the duet with Steve Perry, "Don't Fight It." c/o J. Morgan

Steve Perry who is from the central valley, donated to the flood relief fund in the central valley. Steve said, "I am part of the central valley, always have been, so I feel compelled to help out where I can". c/o M. Sorrentino

The SPIN Hotline message has been shut down in Steve Perry's words, "There's no reason to have a Steve Perry hotline at this time." To hear the message call (415) 597-6633. c/o S. Perry & SPIN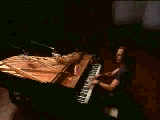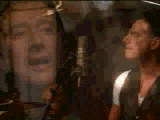 Columbia/Sony Records announced that the hit album "Trial By Fire" has gone "PLATINUM"! (one million albums sold). The Journey video for "When You Love A Woman", (the single also has gone "PLATINUM"!) is directed by Wayne Isham. Above are some photos from the Journey video of Steve, Neal and Jonathan!


Go Back To The
JOURNEY WORLD WIDE WEB PAGE
Email comments to: jrny@hotmail.com