Click on the name of a band member. It will take you to a Web Page about each band member!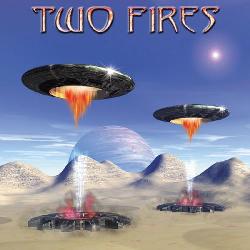 The Kevin Chalfant & Josh Ramos Project called Two Fires is slated for released this summer. The performers include Kevin on vocals, Josh and Alby Odum on guitars, Kenny Arnoff on drums, Kim Peterik (from Survivor) and Brent Mitchell on keyboards, and Willie Weeks on bass. Track list includes: My Love Will Be There, I Won't Give Up On Us, Piece Of My Heart, When Love Is Gone, Summer Of Love, Surrender, What A Man's Gotta To Do, Remember, Never Stop Loving You, Alicia, I Believe In You, I Can See You and River Of Destiny. Kevin said the following about the project. " Thank you to everyone showing Josh and myself so much kindness by emailing good wishes on the new CD. It was a labor of love and it has the love vibe about it. Thank you everyone and God Bless you all!
Here are a couple of photos of Kevin and Josh from the sessions:
(Images courtesy of www.rocktracks.de)
---
Kevin's also working on getting the long awaited unreleased The View project (with Ross Valory, Kevin Chalfant, Prairie Prince, Tim Gorman, and Stef Burns) released on CD. It will probably be out in late Summer 2000. They may also possibly record another new album for 2001. The track listing is as follows: Who Ya Gonna Believe?, Keys To The City, One Track Mind, Save It For Me, Hard To Get, If I Had You Back Here, Walk Through The Fire, Dreaming Your Life Away and Lonely Heart So Long.
---
If you did not see the Live With Regis & Kathie show on July 14, 1999 below are some vidcaps from the show. Performing with Ron Wikso was, Randy Meisner (The Eagles); Denny Laine (Wings; Moody Blues); Fergie Frederickson (Toto); Spencer Davis (Spencer Davis Band); Michael Monach (Steppenwolf) and a few others.

Ron Wikso has produced and played on a new CD for a band called Majic Ship. It's available now at www.majicship.com and features a bonus track with Cher on vocals along with guest performances from current and forrmer members of REO Speedwagon, The Rolling Stones and others. You can also check out audio samples at the site.


Majic Ship

This Web Site Is Maintained By Ken Jones and Scott Sullivan
Site started on February 1st, 1997. This page is intended for entertainment purposes only.
FastCounter by LinkExchange